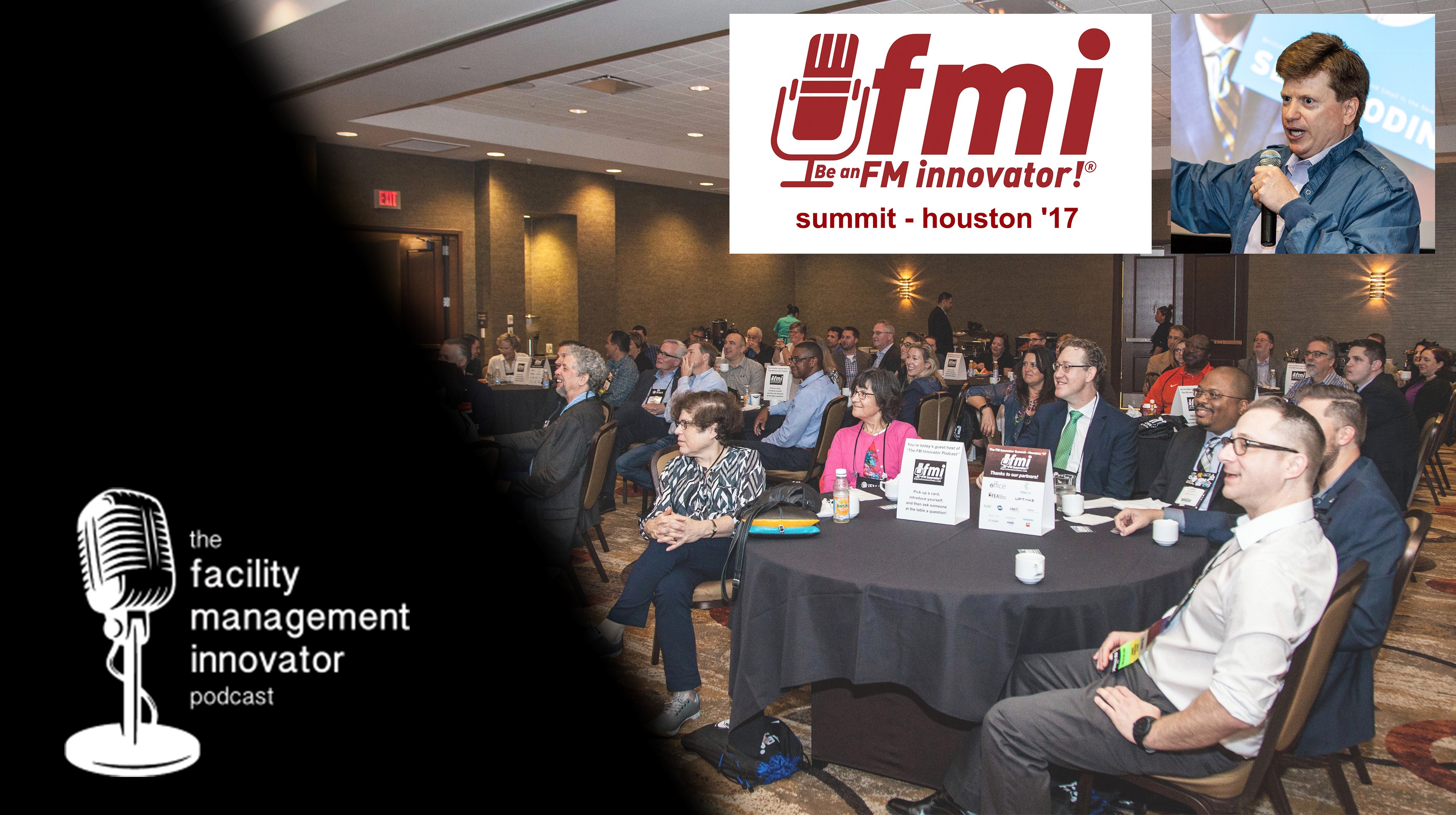 Ep. 62: The Facility Management Innovator Summit – Houston '17 | Mike Petrusky
November 7, 2017
Overview
On October 19, 2017, for the first time ever, "The FM Innovator Nation" gathered during IFMA's World Workplace in Houston, TX. On this episode of the podcast, Mike Petrusky recaps the "live podcast experience" with a play-by-play of the amazing line-up of guests that made this inspirational and motivational event such a special one. First, Mike shared his story of dealing with the rapidly changing marketplace and the need for all of us to step outside of our comfort zones. Then, Andrea Sanchez of Spark Story gave an inspirational talk which was followed by live interviews with Dr. Jake Gunnoe, Robert Kleimenhagen, Jr., CFM, SFP, Elizabeth Dukes, and Peter Ankerstjerne. Tyrel Melville, FMP, shared a report from the Caribbean Nations and offered a moving call to action for FMs and Kay Sargent of HOK delivered a virtual presentation on "The Big Shift" taking place in the transformational workplace. Here are the time-stamps for the complete rundown of audio clips from the "FMI Summit" as they appear on this episode:
02:50 Mike Petrusky
04:44 Andrea Sanchez
06:40 Jake Gunnoe
08:28 Robert Kleimenhagen, Jr.
09:57 Tyrel Melville
12:07 Elizabeth Dukes
13:36 Kay Sargent
20:40 Peter Ankerstjerne
Watch the video highlights from The FM Innovator Summit – Houston '17: https://youtu.be/bL2guf806KM
Watch the video of Tyrel Melville, FMP sharing his story from the Caribbean: https://youtu.be/tNr3V0W4sHw
Watch Kay Sargent of HOK deliver her thoughts on "The Big Shift": https://youtu.be/k6_VcOqfyqE
Watch the video used to introduce Peter Ankerstjerne: https://youtu.be/OosSelHTyGA
Sign up to "Be an FM innovator!®" & get your FREE "Partnering for Excellence" E-book at http://kayrellconnections.com/