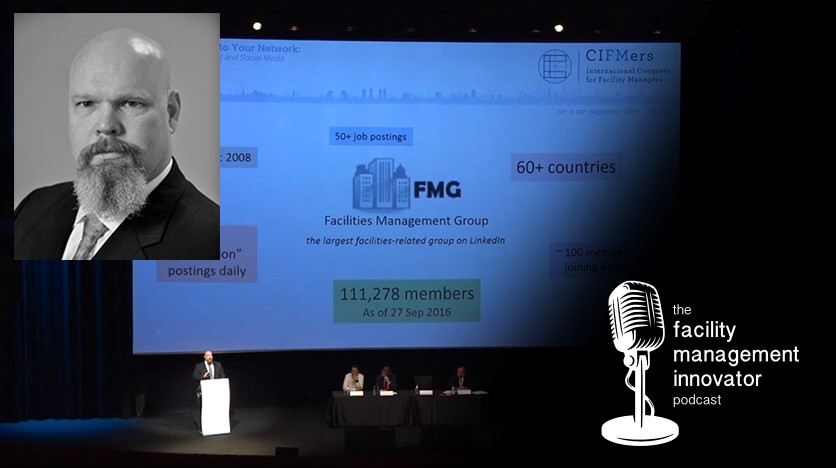 Ep. 52: "Unsettling Sentiments in FM" | Ed Ehlers – VP of Integrated Facilities Management
August 29, 2017
Overview
Edward Ehlers, CFM, FMP is a facilities management professional at a global FM services provider, but that is not all. The big takeaway from this episode is most certainly that we should "never judge a book by its cover"! We learn about Ed's work as an FM professional, but that is just the beginning, as we'll also explore some of the many other facets of his very interesting life. Ed is a deep thinker, a writer, an artist, and the owner of the largest FM related group on LinkedIn (FMG). Mike Petrusky asks Ed to share his thoughts on a topic that is sure to ring true with our podcast community: "Unsettling Sentiments: Disruptive Thinking & Unconventional Wisdom in Facilities Management". The five thoughts that Ed has identified are as follows:
1. Facility managers don't manage facilities.
2. Stop! You're not networking, are you?
3. Cost savings? Yeah, that's on my list. I'll get around to it.
4. Customer service is not my job.
5. Hurry up and pause.
Listen as Mike asks Ed about each "disruptive thought" and also explores how our FM community can leverage these ideas to build a culture of collaboration and meet the challenges of the evolving workplace together!
Connect with Ed on LinkedIn: https://www.linkedin.com/in/edwardehlers/
Join the largest FM group on LinkedIn - "Facilities Management Group (FMG)": https://www.linkedin.com/groups/Facilities-Management-Group-134366/about
Watch Ed's CIFMERS 2016 address in Madrid, Spain: https://youtu.be/F8zGZa_9_4g
Learn about Ed's children's book "Lily & Lucy: An Easter Story": https://amzn.com/1945304197
Visit Ed's Etsy Shop "CliftonStone": https://www.etsy.com/shop/CliftonStone
Register for IFMA's World Workplace 2017: http://worldworkplace.ifma.org/
Register for The FM Innovator Summit - Houston '17: http://events.eventzilla.net/e/the-fm-innovator-summit--houston-17-2138931005
Sign up to "Be an FM innovator!®" & get your FREE "Partnering for Excellence" E-book at http://kayrellconnections.com/
Subscribe to the "FM Innovator Podcast":
iTunes: http://ow.ly/7oJF304EivM
Google Play: https://t.co/4kSe3vzK77
Stitcher: http://www.stitcher.com/s?fid=131544&refid=stpr