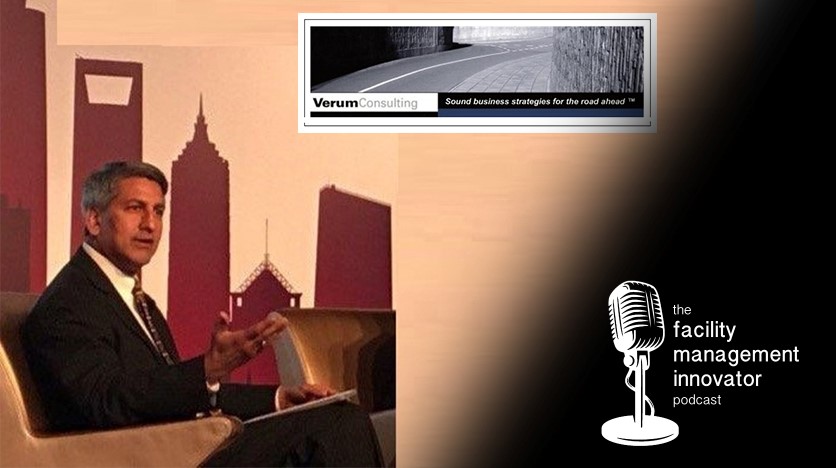 Ep. 45: Making RFPs Fun Again! | Innovations from Vik Bangia - Verum Consulting
July 11, 2017
Overview
Vik Bangia is Founder and Managing Principal of Verum Consulting, LLC, a strategy and operations consulting firm based in Minneapolis, MN. He serves on the Global Board of Directors for CoreNet Global where he is recognized as an expert in corporate real estate outsourcing and is also a sought after keynote speaker. Vik talks with Mike Petrusky and shares his ideas for making the RFP process for corporate real estate fun again by promoting innovation and creativity during the vendor selection process. He talks about the importance of connecting service providers with an organization's entire team to promote collaboration and business partnerships that will lead to a more successful corporate real estate decision-making process. When Mike asks for a real-life example, Vik discusses his partnership with Philip Grossberg at Avnet and the success they have experienced using this process. There are valuable insights for both facility management practitioners and industry-partners alike...and some classic rock, too!
Connect with Vik on LinkedIn: https://www.linkedin.com/in/vik-bangia-0b54522/
Get a free copy of Vik's eBook mentioned during the show. Just email Vik at [email protected], put "eBook" in the subject line and provide your full contact information. Your information will not be shared.
Sign up to "Be an FM innovator!®" & get your FREE "Partnering for Excellence" E-book at http://kayrellconnections.com/
Register for IFMA's World Workplace 2017: http://worldworkplace.ifma.org/
Subscribe to the podcast:
iTunes: http://ow.ly/7oJF304EivM
Google Play: https://t.co/4kSe3vzK77
Stitcher: http://www.stitcher.com/s?fid=131544&refid=stpr